History
The Academy grew out of an organizational meeting that was held at Indiana University in 1994. This photograph includes people who were present at the IU meeting.
1994 APCS Founding Members.pdf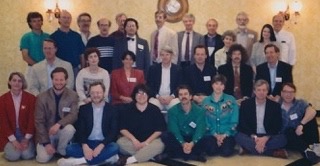 Back Row: Scott Monroe, Blaine Ditto, Ken Sher, Bob Simons, Steve Beck, Will Grove, Tim Baker, Don Fowles, Neil Schneiderman, Susan Campbell, Ken Heller, Laura Carstensen, Dick McFall
Middle Row: Al Lang, Judy Conger, Beth Meyerowitz, Bill Ray, Rob DeRubeis, Bob Levenson, Dick Bootzin
Front Row: Sue O'Leary, Mark Whisman, Greg Miller, Ana Marie Cauce, Mike Telch, Jane Steinberg, Ian Evans, Alan Kraut
More background information about the origins of APCS can be found in the following article.
APCS Creates Fusion of Science and Clinical Training, APS Observer, January 2002
The following chapter also provides detailed information about the history of the Academy.
History of the Academy of Psychological Clinical Science, by Don Fowles (2015). This chapter appeared in The Encyclopedia of Clinical Psychology (edited by Robin Cautin and Scott Lilienfeld).
The first formal meeting of APCS was held in 1995 in New York City. That meeting was attended by representatives from 21 of the original 26 programs. An organizational structure was adopted with a six-person executive committee consisting of the president, secretary, treasurer, and three members-at-large. Richard McFall was elected president, Robert Levenson secretary, Don Fowles treasurer, and Dick Bootzin, Beth Meyerowitz, and Neil Schneiderman members-at-large of the executive committee. The group drafted mission statements and by-laws. APCS was to be affiliated with APS, and annual meetings were to be held in connection with the APS annual meeting. More recently annual meetings have been held virtually instead, but APCS has continued to be involved in APS clinical science programming.
See the list of Past Officers on this website for more information about the leadership of APCS during its formative years.
At the 1996 meeting, Howard Berenbaum, reporting for the Training Subcommittee of the Education Committee, raised the question of APCS's relationship with research-oriented internships. The idea was greeted with enthusiasm, and the subcommittee was charged with the task of meeting with representatives of internships to discuss possible membership in APCS. Berenbaum and Tim Strauman pursued this important initiative, which opened a new chapter in APCS history.
At the meeting in 1998, Bob Simons, chair of the Membership Committee, announced that seven internships became members of APCS. This historic event added a major new dimension to APCS that was not envisioned at the 1994 meeting in Bloomington. It provided an opportunity for supporting clinical science internships and the potential of greater integration of science training in graduate programs and internships.
Starting in 2000, the president of APCS served on the APS program committee as chair of the clinical track. In 2002, the president of the Society for a Scientific Clinical Psychology (SSCP) was added, and the two presidents served as co-chairs.
A 10-year anniversary celebration was held in conjunction with the 2005 annual business meeting in Los Angeles. photo gallery commemorating that event can be found as part of our record for that meeting (see Annual Meeting heading).
On January 14, 2006, Varda Shoham (then president of APCS) convened a meeting in Tucson of the leadership of the Academy, including the elected executive committee (EC) and the three former presidents of the Academy, to discuss the implications of current and future trends in accreditation for the quality of doctoral training in scientific clinical psychology (i.e., training in psychological clinical science). The meeting's primary focus was on developing a positive vision for the future of doctoral training in psychological clinical science and identifying the best way to realize this vision.
Those attending were Varda Shoham (University of Arizona), Richard McFall (Indiana University), Richard Bootzin (University of Arizona), Don Fowles (University of Iowa), Teresa Treat (Yale University), Timothy Strauman (Duke University), Marc Akins (University of Illinois School of Medicine), Tom Oltmanns (Washington University in St. Louis), Robert Simons (University of Delaware), Timothy Baker (University of Wisconsin), Robert Levenson (University of California, Berkeley), and Alan Kraut (executive director of the Association for Psychological Science). After extensive discussion by the entire group during the meeting, the Academy EC voted to develop an independent accreditation system.
A complete description of the PCSAS accreditation system and its history can be found in a chapter titled, Psychological Clinical Science Accreditation System (PCSAS) by Richard Bootzin and Teresa Treat (2015), This chapter appeared in The Encyclopedia of Clinical Psychology (edited by Robin Cautin and Scott Lilienfeld).
The following photos were taken at the Tucson meeting in 2006 when the APCS Executive Committee decided to develop PCSAS.